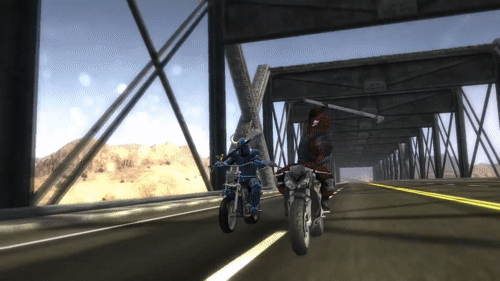 Road Redemption is an action racing game where you lead your motorcycle gang on an epic journey across the country in a brutal driving combat adventure.
Earn money by completing races, assassinations, robberies, and other challenges in your path. As you collect loot, you'll upgrade your character, your bike, and your weapons.
One Life To Live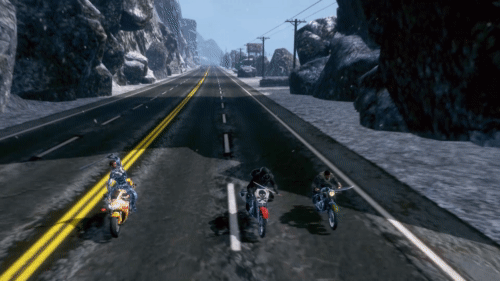 Driving a motorcycle at 100 mph while trying to hit someone with a pipe is dangerous, and death can come quickly. Fortunately, every time you die, all the experience you've collected can be used to upgrade your character, your bike, and your weapons.
In the multiplayer mode, you can work with your friends or let out some road rage on them. It's up to you.
A Truly Epic Quest
Road Redemption takes place in a post-apocalyptic world, ruled by a brutal dictator. Fans of Mad Max will feel right at home here.
After years of bloody street warfare, the country's biker gangs have settled into an uneasy truce.
This period of peace is interrupted when the leader of the country's richest weapons cartel is assassinated, and a $15,000,000 bounty is put on the mysterious assassin's head.
It's up to you and your fellow gang members to chase down the assassin and claim this prize, but you'll have to drive through enemy territory to do so. Every biker in the country wants a piece of that $15,000,000 bounty, and they won't hesitate to take out those who get in their way.
Revengers Assemble DLC
This DLC features a new Endless mode with online leaderboards and three new racers with their own unique weapons!
Endless mode boasts number of different single-player and splitscreen endless challenges (different bikes, different riders, etc) that take the player through an endless set of the game's existing levels. Players will compete for the top spots on leaderboards.
New Riders
Admiral Uganda – Features
Utilize Admiral Uganda's unique shield made of Vibronium to defeat your enemies.
If you time your deflects perfectly the energy of the attacker is deflected back at him.
You can also throw your shield to knock unsuspecting enemies off their bikes.
Theranos – Features
Theranos wields the dangerous Chaos Gauntlet.
Every time you snap your fingers…Every enemy has a 50% chance of turning to dust.
You have a 25% chance of turning yourself to dust, ending your game.
PC Master Race Rider – Features
How good are your specs? Flex your gaming rig with PC Master Racer!
Loses 0.5HP per second, for every second that the framerate dips below 60fps
The higher your graphics settings are, the more damage your character does
The higher your screen resolution, the more nitro PC Master Racer has.
---
Download
---
Mega: Link
~ Mega Data ~
Mobile ~ Desktop  ~ Windows 10 ~
2.3 GB  – Repack Size
5.7 GB  – After Installed
---
SYSTEM REQUIREMENTS
---
Requires a 64-bit processor and operating system
OS: Windows XP, Vista
Processor: 1.4GHz processor or faster
Memory: 8 MB RAM
Graphics: DirectX 9-compatible graphics card with at least 1.5GB of video memory
DirectX: Version 9.0
Storage: 1000 MB available space
---